Mobile Repairing Institute in Delhi
Advance Mobile Repairing Institute in Delhi syllabus Details 
In this course, ABCMIT is providing which is a complete practical training, where a student will be provided with a mobile repairing board to practically perform the learning and gain confidence. This course will take you to the next level in your career in mobile repairing. It includes learning everything about mobile repair in a single course. With the help of this course, the student will be able to relate and connect the theoretical training with the practical one in the most beneficial manner.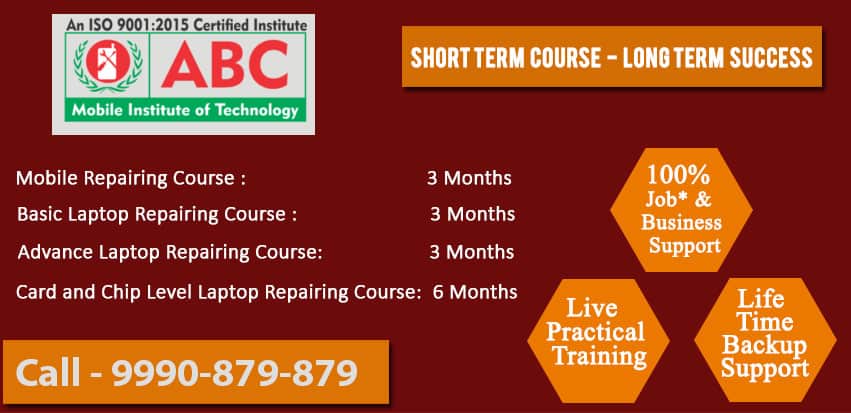 The modules of the course are simple and easy. All the technical terms have explained really well making it the best course among the different courses available in Delhi. Being a student or a professional, you must be looking for a course that can strengthen your career even more. The modules for this course cover almost everything about mobile repairing. After completing this course successfully, you can easily get placement in some good mobile repairing company. You can also start your small business where you can use your expertise and knowledge and be a winner.
We provide training that can help understand any branded mobile like Acer, BlackBerry, Google, Motorola, MTS, Nokia, Panasonic, Samsung, Sony, Spice, Xiaomi, Xolo, Samsung, Videocon, iPhone, VIVO, OPPO, One Plus, Gionee, etc. This covers almost every brand used at present. Student gets the expertise in mobile repairing with the full-fledged training we are providing with practical exposure at every step of the training.
The faculty members in this advance mobile repairing course are having a good experience and practical exposure. All our faculty members are supportive and giving attention to every student in the class. The students are satisfied with the faculty members and taking all the benefit of the open culture in the class.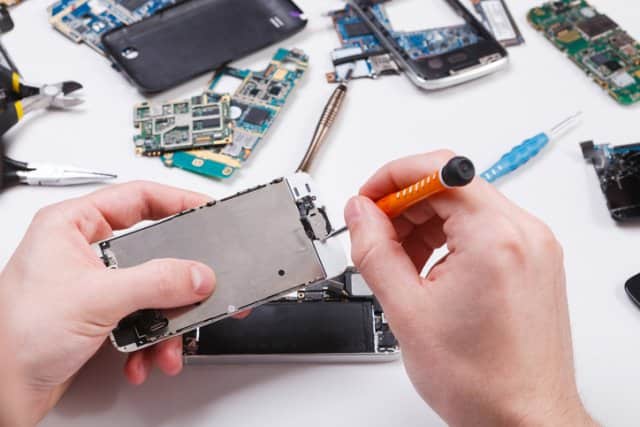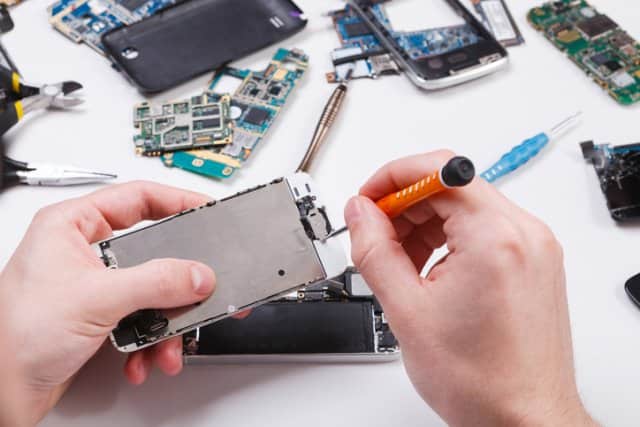 If you are interested in an advanced mobile repairing course in Delhi, you can any time contact us to get more details on the course and take other information like fee and other details.
ABC Mobile Institute 100% Live Training, At present, there are billions of cellular phones in use throughout the world. Technology has been rapidly advancing. Mobile phone companies have been continuously experimenting with the technologies to launch a varying experience for users in the market. Mobile phones have replaced watches, radios, cameras, and various other gadgets. Multi-use of mobiles has also made them prone to physical damage because of moisture or scratches. Users are left with no other option than replacing their devices due to lack of expert technicians. Best Mobile Repairing Institute in Delhi Join ABC Mobile Institute.
This has made it very important to have an understanding of various hardware and software-related technology. One cannot take chances when it comes to resolving problems related to their expensive gadgets. Extensive knowledge to diagnose core problems is required. With the modernization of thinking and improved adaptability of internet various online courses or classroom training in the field of mobile repairing, the course is available for cellular phone and laptop repairs.
Mobile Repairing Institute in Delhi 100% Practical Training Provide ABC Mobile Institute of Technology. Join & Learn Mobile Repairing Course, Laptop Repairing Course, Led Lcd Smart Tv Repairing Course.
Today mobile phones are not restricted to just communication but a means for navigation of data. Any loss of data can be extremely problematic for users. Cell phone technician services help in the recovery of data which is valuable to the users. Online technicians can also train users or guide them to solve minor mobile set issues.
Mobile Repairing Institute in Delhi, It is inevitable that a user will not require repair service. The limits of cell phone and mobile repairing have been witnessing an upward trend. This has led to the creation of career paths. Demand for well-trained individuals who can detect and fix the problem is at high. With such high demands and mobile repairing needs Companies are always on a lookout for institutions providing high quality, practical based and job oriented training courses to students.
Join Mobile Repairing Course in Delhi
Study of mobile technology has many advantages. Knowing technology used behind repairing cell phones of various brands can be helpful. One can easily set up a mobile repairing or a laptop repairing business with very low costs involved. Mobile repairing courses are an efficient use of time. It is because within less than 6 months a student can learn to repair the widely used mobile phones. The most important part is that mobile repairing training gives the same advantage as any other degree course. These courses are job-oriented that provide hands-on practical training that is quite similar to the industry set up. The course fee is also quite affordable with various installment payment options.
If you are looking for a Mobile repairing course in Delhi, you can call us now for a free demo class. In our demo class, you will come to know about the knowledge of our trainers and their ability to solve queries. The mobile repairing course in Delhi that we are providing is completely practical in nature and focuses on the application of each and every theory in real-life situations.
Mobile Basic, Mobile Advance, Mobile Tracing, Tablet Repairing Class, iPhone repairing training all Type Mobile, Tablet, Chinese Mobile Repairing class Provide ABC Mobile Institute.
Mobile Repairing Institute in Delhi, All you require is to enroll yourself in a mobile repair training program with a prestigious institution. However, before investing your hard-earned money, it is wise to see the future benefits of the cell phone repairing training that one will obtain. These institutes provide you with all-round hardware and software repair learning. They offer programs which are focused, detailed and practical based. You can apply at some big wireless telecommunications provider where you can provide online or on-site cell phone repair services. You can also set up and expand your cellular repair business and expand into an untouched market to rise above. Join Mobile Repairing Course Details, Led Lcd Tv Repairing Course, Laptop Repairing Course, Computer Hardware Repairing Course,
We Are Professional, Competitive And Competent In Our Service

Extra Benefits of ABC Mobile Repairing Course in Delhi:–
Advance Infrastructure

Student Study Material 

                                                                         

Software training

Equal Emphasis On Theory & Practical

Innovative Approach                                                               

Flexible Batch Timings

Online Support

Discussion Desk

Job Placement Assistance

100% Business Support

Free Video Backup Classes

Free Software Provide Every Course

Mobile Repairing Course in Delhi 100% Practical Training Class, India No 1 Training Institute Join Mobile Course Basic & Mobile Course Advance, Chinese Mobile Course.